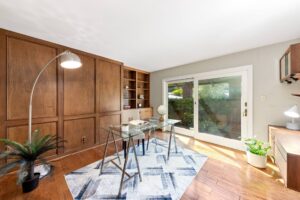 You're preparing to list your San Francisco home. The home office needs an upgrade to attract tech-savvy buyers. But how exactly can staging improve this space? Here, Let's Stage It answers common questions about staging home offices for real estate.

How Does Staging Make a Home Office More Marketable?
Many San Francisco buyers prioritize usable home office space when purchasing a house. An outdated, cluttered office can deter buyers. Staging solves this by:
 
– Creating an ideal layout for efficiency and focus
– Incorporating built-ins and organization systems to maximize functionality 
– Showcasing sufficient power outlets, lighting and WiFi
– Curating an inspiring, on-trend design palette
– Depersonalizing through removing family photos and memorabilia 
– Defining the room's purpose as an office, not a clutter catch-all

Staging transforms the home office into a highlight of your house tour instead of an afterthought.

What Are Strategic Staging Steps for a Home Office?
Our home stager will:

– Remove clutter and personal items so buyers can envision themselves working here
– Style with neutral, contemporary office furniture that appeals to diverse buyers
– Incorporate built-in shelving or cabinetry suited to the architecture
– Showcase tech capabilities like multiple outlets and high-speed internet
– Create defined workstations with desks/chairs facing the doorway
– Organize supplies and papers neatly into coordinating filing systems
– Update lighting fixtures as needed
– Add greenery, art and accessories for an inspired creative environment

These impactful improvements help buyers visualize being productive in your home office space.

What if My Current Office is Too Small?
For a tight home office, our stager maximizes functionality through:
 
– Floating shelves to prevent cluttering the desktop 
– Sleek storage solutions like a rolling filing cabinet under the desk
– Multi-functional furniture like a desk with shelving built-in  
– A mirrored wall to create the illusion of more space
– Lights in underutilized areas like over bookshelves
– Super organized layout so every inch is used efficiently

Creative staging makes the most of small square footage.

How Can Staging Integrate the Home Office With the Home?
We use cohesive design to seamlessly blend the home office with your overall interior aesthetic through:

– Echoing styles and finishes used elsewhere in the home
– Incorporating architecture details seen throughout the house 
– Repeating textures, patterns and materials for a curated vibe
– Adding gallery walls that align with the home's artwork

The result is a home office that looks tailored to your spaces, not randomly inserted.

How Much Does It Cost to Stage a Home Office?
Exact costs depend on size and scope. Keep in mind, this small investment in staging your current office pays off when buyers are willing to pay more for homes with functional workspace.

Let Us Transform Your Home Office into a Selling Point!
Don't under-utilize the potential value boost of a well-staged home office. Let's Stage It can overhaul even challenging spaces into personalized selling features. Contact us to discuss tailoring our staging services to your San Francisco home!